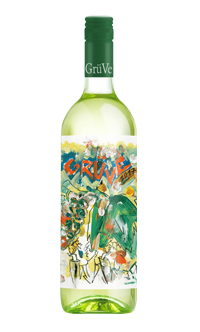 Grape variety:
100% Grüner Veltliner
Soil:
Loess and bedrock soils
ABV.: 11,5%
Ac: 6,1‰,
RS: 1,2 g/l
Ageing potential: 2019

» Etikett/Label [JPG]
» Flasche/Bottle [JPG]
» Factsheet [PDF]
GrüVe 2017
Since 1987, the annual design of our GrüVe label has been in the artistichands of Christian Ludwig Attersee. His 31 sublime motifs have conveyed the successful symbiosis of painterly art and vinophile magic. Each vintage thus becomes a unique ambassador of taste.
The 2017 Vintage
Alwin Yurtschitsch smiles, "Finally, an almost normal growing season!" No hail, no frost. According to meteorologists, we had the third warmest summer since 1767, but growing and harvesting perfectly ripe grapes is quite a challenge in warm years. Moderate yields and multiple meticulous rounds of manual pruning, as well as the perfect timing of the harvest - when the grapes taste "al dente" - are the secrets of success for the liveliness and excitement in our wines. In short, 2017 has been the long awaited "normal" year with great potential. It is well known that the best wines come from happy winemakers, and this Grüve also bears witness to this.
» Weinlese « (vintage, grape harvest)
As always, the first herald of the new year will be our GrüVe. With the title "GrüVe - Vintage", Christian Ludwig Attersee has created another refreshing work of bottle art. The GrüVe itself impresses with its delicately spicy fruit, elegant acid structure, and wonderfully cool aroma.

The making of the wine
The grapes were selectively picked by hand at the middle of September, carefully destemmed, and pressed at very low pressure. Without the use of pumps, the clarified must flowed from the press house into the natural cellar below and was slowly fermented in cooled stainless steel tanks at approx. 18 ° C. The delicate fragrances and flavors were thereby retained. The freshness and fruit of the classic Veltliner are emphasized bymaturation in a steel tank.
Drinking & food pairing recommendations
GrüVe ist a brilliant aperitive, a delicious refreshment on hot days, or a pick-me-up after a stressful working day, as well as a hearty accompaniment to fresh, healthy dishes.